Piano Movers in Providence County, Rhode Island
At, Affordable RI Movers, we understand that your piano is more than just a musical instrument. It consists of many rejoicing memories and a bit of financial value. Our piano movers in Providence County will make sure to preserve all these aspects. Our Providence RI piano movers have the required knowledge and expertise to safely deliver your musical instrument to you from any place in this region. So if you need a piano moving service in RI, then we are just a one call away. Leave all your relocation needs to us and we will take care of it with precision and care.
Why us for piano moving in Providence county, RI?

Climate controlled moving trucks, trailers and storage facilities
Proper packaging of all items with great care and accuracy
Experienced Piano Movers with necessary expertise and equipment
Affordable and Prompt Moving Experience
No outside parties to handle the relocation excepts us experience the ultimate piano moving in Providence County, RI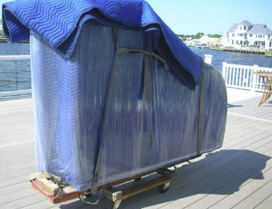 You might be able to find several moving companies in Providence County. However, with our RI piano movers' experiences and innovative moving techniques we can fully guarantee you that you shall receive the best moving experience in this whole region. Before moving the instrument, our piano moving experts first start with dismantling the parts very carefully. Then, they will pack them with utmost care so that the instrument will not receive any sort of damage during the moving. After relocation, we will then assemble the parts and place it at the place you want as the way it was before. So rely on our Providence piano movers for relocation of your piano in Providence or any other areas in Rhode Island.
If you do not want to dismantle the parts then if possible, we will try our level best to relocate it without dismantling. Whatever, your moving needs are, please convey them us and we shall seek to accomplish it with full dedication. We will reach you on time and deliver the property on time. We will make this whole moving experience even easier than you had imagined.